Join EK Jewelers and five other businesses as you Shop Hop Gillette and keep it local for the holidays! Enjoy a progressive discount and take care of your shopping lists at the same time.
'Tis the season to find the most unique gifts and support your community as you Shop Hop Gillette! Enjoy a progressive discount as you make your way around these six wonderful businesses during this three day event: November 14-16, 2019. 
The first business you visit will start your card for you and offer 10% off* then the next store you hop to will over 15% off and lastly 20% off. The discount could be one item, could be total purchase, could be a lunch special - it is up to the business's discretion. The point of the event is to get into the shopping spirit and visit some of Gillette's best stores! 
Who's participating in Shop Hop Gillette this holiday? These great businesses:
Need some ideas on what to Check out these Shop Hop Gillette options:
Grab a cup of coffee at the Local. 

Jump over to Sole Mates and buy a great pair of shoes for yourself, or your loved one. 

Enjoy a B3 (that Bacon, BlackBerry Jam, and Brie) for lunch at Alla Lala. 
or 
Grab a London Fog Latte at Alla Lala.

Shop for some fun clothing at Magpie Designs. 

Grab a treat and a Zip Fiz from The Local. 
or 
Start at Tin Wagon and snag that super cute flannel you've had your eye on. 

Stop at The Local and grab a cup of coffee. 

Swing into EK Jewelers and pick yourself or your loved ones up something truly glamorous! 
... I could go on and on, but you get the picture! Shop Hop Gillette.
Grab a friend and come join us for Shop Hop Gillette! Tell us where you will start in the comments below.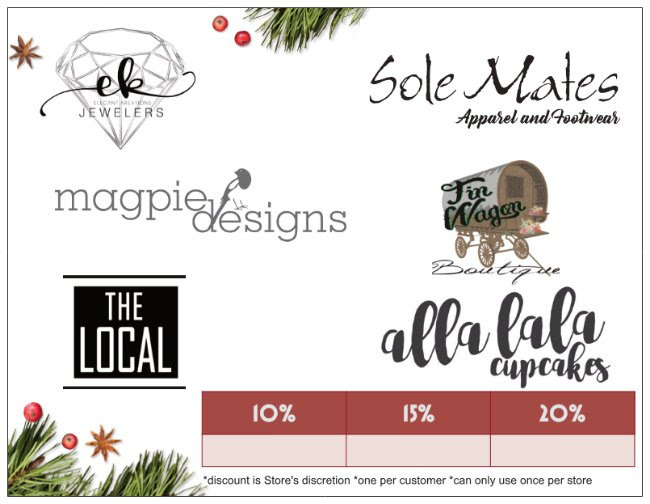 *Discount is Store's discretion. One card per customer. Can only use once per store.