Posted on
Posted in asscher, Christmas, cushion, emerald, events, heart, marquis, oval, pear, princess, radiant, round, trillion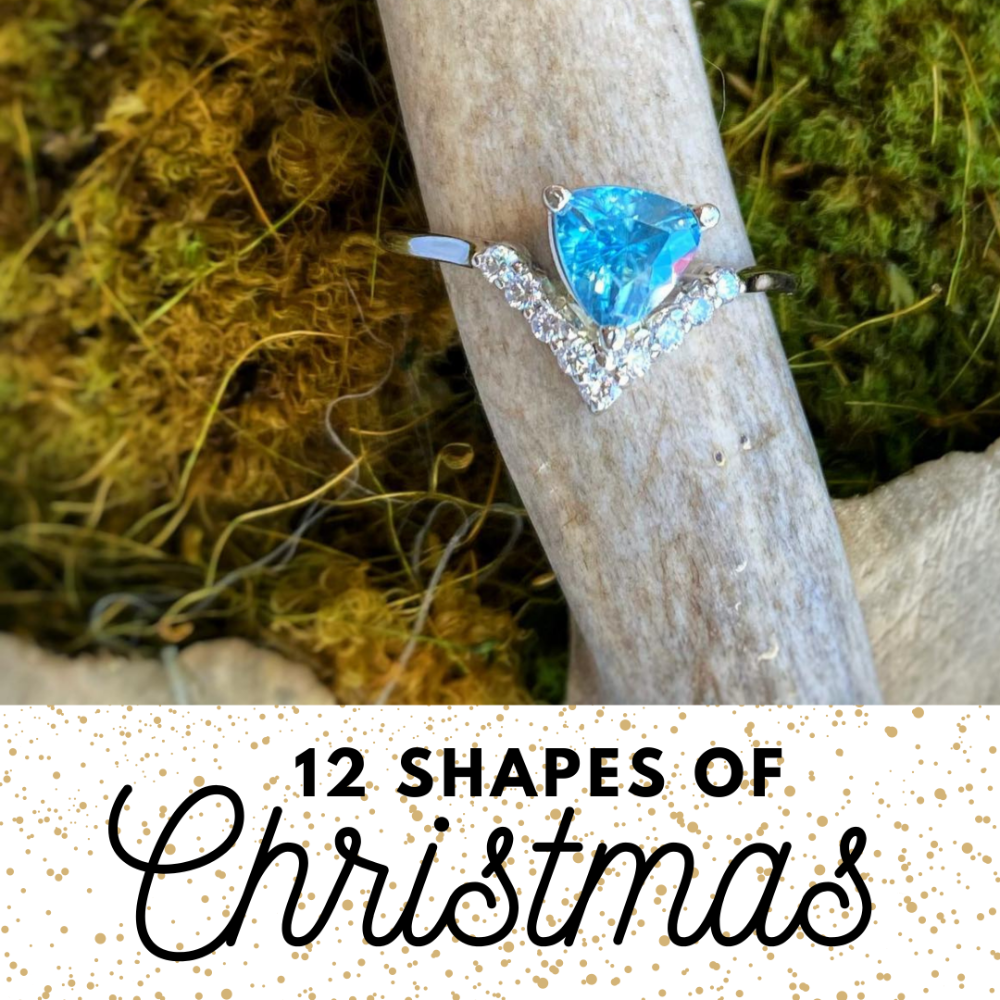 Christmas is coming! Yes, we know, it's 12 weeks away … but, we want to educate you on all the beautiful jewelry EK Jewelers has available so you can find the best present for your loved ones!
So we've decided to highlight the 12 Shapes of Christmas! Each week we will share spotlight items and do videos to chat a little bit more about them on Facebook and Instagram. Shapes include: 
September 28: Trillion or the triangle. This shape was started in 1962 in the Netherlands! Trillion fact: they have to be cut with thicker corners so to keep the corners less susceptible to breaking or chipping. Shield cut is a type of trillion that has been stretched out. This week's spotlight is this vibrant blue Zircon and Diamond beauty set in white gold ring, accenting the triangle shape with diamonds on one side! 
October 5: Heart. The heart shape is one of the oldest and most difficult cuts of diamond. Being cut in 1463 they entered our world and caught the eyes of everyone. Mary

Queen of Scotts sent Queen Elizabeth a ring with a beautiful heart shaped diamond in it. This was a symbol of friendship and goodwill! This week's spotlight is this beautiful

14K Yellow Gold Heart Diamond Bezel set necklace; perfect for your sweetie!
October 12: Asscher. In 1902 Joseph Asscher created the asscher cut. The asscher cut is similar to the emerald cut, however, it's more square than rectangular. This beautiful sapphire ring is accented with two asscher diamonds! Get 10% off this beauty if you buy before or on October 17!
October 19: Radiant: The radiant cut was first born in the year 1977. It is the perfect blend of a brilliant pattern on the pavilion in a square or rectangular shape. This pair of rare white sapphires are cut in the Radiant shape, and would look GOOD next to anything! Get 5% off radiant cut stones through October 24!

October 26: Emerald: The emerald cut was born in the 1500s but wasn't popular until the 1920s. It's step cut pavilion creates a unique hall-of-mirrors effect. Did you know that Jackie Kennedy had a gorgeous emerald cut diamond and an emerald cut emerald in her engagement ring? The diamond was 2.88 carats and the emerald was 2.84 carats! You can get a lavish ring like hers! Take a peak at this rose gold diamond ring to see this lovely cut!
November 2: Marquise: Did you know that King Louis XV had the original marquise shaped like his mistresses lips? Check out this beautiful marquise diamond solitaire ring.
November 9: Pear: The first pear cut diamond made its debut in 1475, when jeweler Lodewyk van Bercken introduced the style to the masses. Typically cut with 58-fascets, pear cut gemstones maintain such a radiant appearance and an absolutely brilliant sparkle! The teardrop shape is said to symbolize tears of joy, while the style itself is a testament to a woman who is bold and walks to the beat of her own drum. This style is perfect for an empowered woman with a flair for romance and elegance. 
November 16: Cushion: Did you know that the "Cushion" got it's name for being like a pillow. Also it's the perfect shape for a vintage flair and maximum sparkle! Three special Cushion rings will be 5% off this week. Make sure to watch our social media pages for details!

November 23: Oval
November 30: Princess
December 7: Round
December 14: OMC/OEC
And, if you join our email list the details will arrive in your mailbox each month! Not on the list? Get on it here.
We're here to make your Christmas shopping easy this holiday season. To find your loved one a stunning ring, necklace, bracelet or pair of earrings, stop into EK Jewelers at 217 S. Gillette Avenue or contact us at 307.363.4010 or [email protected].